Meet Dr. Valerie Eibling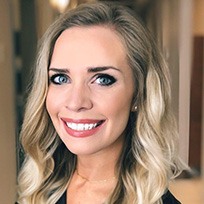 Dr. Valerie Eibling proudly attended Purdue University, where she studied Biology with a concentration in Human Health and Diseases, minored in Psychology, earned the Entrepreneurial and Innovation Certificate, and had her Medicinal Chemistry research published. She continued her education and earned her doctorate from the Indiana University School of Dentistry. Her education and research experience laid the foundation for her evidence-based approach to dentistry.
At age 10, Dr. Eibling found her passion for dentistry when she fractured her front tooth. Her first-hand experience with the dental as well as emotional care that her dentist provided became a pillar in shaping her dental career. Her goal is to create trusting relationships with her patients and comprehensively care for their oral health needs.
Outside of the dental office, she is passionate about her family and her community. She has one little boy, Cal, with her husband, Grant, and two dogs, a German Shepherd and Australian Shepherd. They love being active and are proud to call Indiana home. Dr. Eibling was a 2015 500 Festival Princess and enjoy supporting the Children's Museum of Indianapolis and the Indianapolis Zoo.