Contact Indy Dental Group of Carmel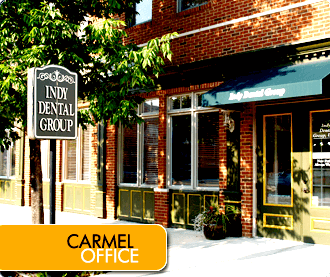 Welcome to the Carmel, IN office of Indy Dental Group. Dr. Jack M. Miller, Dr. Elizabeth Lewis, Dr. Mallory Lawson and Dr. Megan Avery all work at this location, bringing you and your family all of the dental services you need to have smiles that are healthy and beautiful.
Location
Indy Dental Group of Carmel is located at 12720 Meeting House Road in The Village of WestClay. The area is bounded by highways 31 and 421 as well as Interstate 465, making access to our office easy from any direction. Our office is in the Village Center where you'll also find hair and nail salons, exercise studios, a dry cleaner and restaurants.
Office Hours
Monday: 8:00 am - 5:00 pm
Tuesday: 8:00 am - 5:00 pm
Wednesday: 8:00 am - 5:00 pm
Thursday: 8:00 am - 6:00 pm
Friday: 8:00 am - 12:00 pm
Dental Services
At your dentist in Carmel, you will find that we offer a comprehensive menu of dental treatments. Our services include:
Preventive Dentistry
Restorative Dentistry
Cosmetic Dentistry
Dental Implants
Periodontal Therapy
Whether you or a family member needs a routine dental examination and cleaning to help maintain a healthy smile or a more complex restorative procedure such as root canal therapy or even full-mouth reconstruction, our dentists can provide the necessary procedure. We also want you to have a smile that's attractive, so we offer cosmetic services including teeth whitening, porcelain veneers and direct bonding. And all of our services are delivered with state-of-the-art dental technology and materials.
12720 Meeting House Road, Village of West Clay
Carmel, IN 46032
(317) 571-1900
Office Hours
Monday: 8:00 am - 5:00 pm
Tuesday: 8:00 am - 5:00 pm
Wednesday: 8:00 am - 5:00 pm
Thursday: 8:00 am - 6:00 pm
Friday: 8:00 am - 12:00 pm