Contact Indy Dental Group in Carmel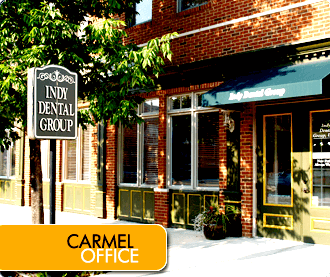 Welcome to the Carmel, IN office of Indy Dental Group. Dr. Jack M. Miller, Dr. Elizabeth Lewis and Dr. Alexandria Schwei all work at this location, bringing you and your family all of the dental services you need to have smiles that are healthy and beautiful.
Location
Indy Dental Group in Carmel is located at 12720 Meeting House Road in The Village of WestClay. The area is bounded by highways 31 and 421 as well as Interstate 465, making access to our office easy from any direction. Our office is in the Village Center where you'll also find hair and nail salons, exercise studios, a dry cleaner and restaurants.
Office Hours
Monday: 8:00 am - 5:00 pm
Tuesday: 8:00 am - 5:00 pm
Wednesday: 8:00 am - 5:00 pm
Thursday: 8:00 am - 6:00 pm
Friday: 8:00 am - 12:00 pm
Meet the Dentists
Dr. Jack Miller is the co-founder of Indy Dental Group and a graduate of the Indiana University School of Dentistry. As a veteran three-time Indianapolis 500 racecar driver, Dr. Miller has used this opportunity to start a national dental health care educational program. He has lectured nationwide on the importance of dental health care. Dr. Miller's affection for racing is evident in the Carmel office where one of his Crest® Indy Cars is mounted on the ceiling and his race history memorabilia decorate the walls.
Along with her husband Dr. Miller, Dr. Elizabeth Lewis is the other co-founder of Indy Dental Group. She graduated from the Indiana University in Bloomington and then earned her Doctor of Dental Surgery degree from the Indiana University School of Dentistry. Dr. Lewis enjoys providing patients with comprehensive dental care through state-of-the-art technology and the latest dental products and treatments.
Dr. Alexandria Schwei graduated Magna Cum Laude from Xavier University in Cincinnati and then attended Indiana University School of Dentistry. She is a member of the Indiana Dental Association and the American Dental Association. In addition to providing top-notch dental care, Dr. Schwei also strives to build warm relationships with each of her patients.
Dental Services
At your dentist in Carmel, you will find that we offer a comprehensive menu of dental treatments. Our services include:
Preventive Dentistry
Restorative Dentistry
Cosmetic Dentistry
Dental Implants
Periodontal Therapy
Whether you or a family member needs a routine dental examination and cleaning to help maintain a healthy smile or a more complex restorative procedure such as root canal therapy or even full-mouth reconstruction, our dentists can provide the necessary procedure. We also want you to have a smile that's attractive, so we offer cosmetic services including teeth whitening, porcelain veneers and direct bonding. And all of our services are delivered with state-of-the-art dental technology and materials.
12720 Meeting House Road, Village of West Clay
Carmel, IN 46032
(317) 571-1900
Office Hours
Monday: 8:00 am - 5:00 pm
Tuesday: 8:00 am - 5:00 pm
Wednesday: 8:00 am - 5:00 pm
Thursday: 8:00 am - 6:00 pm
Friday: 8:00 am - 12:00 pm