Our State-of-the-Art Dental Technology
iTero Digital Impression Scanner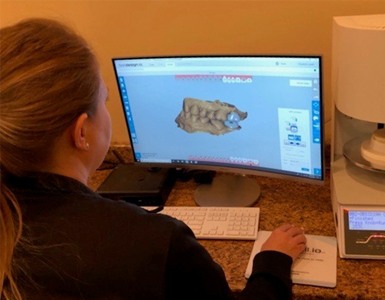 At Indy Dental Group, our team uses bite impressions to design a wide array of treatments so they both look great and fit comfortably, such as crowns, bridges, and even Invisalign. With the iTero scanner, getting the perfect impression is nice and easy. The scanner itself is about the size of a pen, and we use it to quickly capture dozens of images of the teeth. These are then pieced together by software on a nearby monitor to create the impression in just a few minutes, and from there, we can use it to plan a patient's treatment down to the finest detail to ensure fantastic results.
Glidewell One-Visit Restorations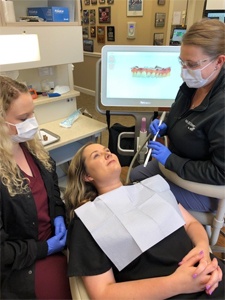 Our in-house Glidewell technology enables Indy Dental Group to design, mill, and place our own high-quality dental crowns in a single appointment, enabling our patients to repair their teeth in record time. We digitally scan a tooth, use this scan to determine the shape, size, and color of the crown, and then it's milled right in our office using a single block of dental porcelain. This crown is then placed into the mouth, and that's it! The entire process can often be completed in as little as an hour, and our crowns are just as strong and aesthetically-pleasing as any made by an outside lab.
Soft Tissue Dental Laser ("Picasso")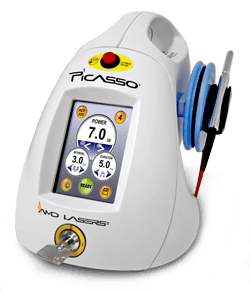 Indy Dental Group uses the "Picasso Dental Laser," pioneered by Dr. Miller's brother Al Miller. This leading-edge dental technology is used to treat canker sore and herpetic lesions, remove fibromas, sterilize root canals, reshape or remove gum tissue, and eliminate bacteria from between diseased gums and teeth. Treatment with a dental laser is precise and controlled, and patients usually have no discomfort, no stitches, and no bleeding, making this an excellent alternative to other forms of treatment.
DEXIS Digital X-Ray System
Indy Dental Group uses the DEXIS Digital X-ray System. With advanced digital radiography, we can provide you with the most in-depth, diagnostic X-rays available today. Digital radiography is safer than traditional radiography, exposing patients to approximately 90% less radiation, and plays an invaluable role in the diagnosis of dental problems.
DEXIS is also:
Better – This system is more accurate than conventional X-rays and reveals things traditional X-rays cannot. The digital image created by DEXIS can be magnified to over 300 times its normal size, making it easier for our doctors to help you understand your needs. We can also manipulate the images to correct contrast ratios and adjust colors to reveal hidden problems.
Faster – The images produced by DEXIS are instantaneous. No time is wasted processing and mounting X-ray film.
Smarter – There is no harmful waste afterward. Our X-ray system does not use film or chemicals, making it friendlier for the environment than a traditional X-ray system.
Intraoral Cameras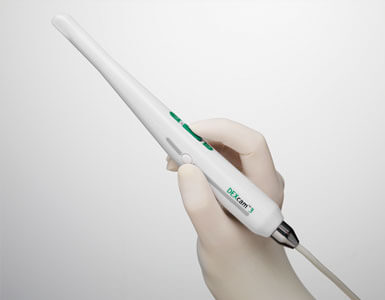 All too often, patients can feel like they're just going along with their doctor's orders, not fully understanding the reasons behind their treatment or what exactly is going on with their smile. Intraoral cameras help reduce the mystery of your oral health here at Indy Dental Group. This advanced technology allows our team to take high-resolution images of the inside of your mouth and show them to you on a convenient chairside monitor. With this visual aid, our doctors can more clearly point out areas of damage and explain the effects of certain treatment options, helping you become a full participant in your oral healthcare journey.
Ultrasonic Scaler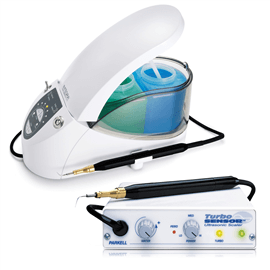 Indy Dental Group uses this amazing technology in its sophisticated periodontal disease program. The Ultrasonic Scaler combines high-frequency ultrasonic vibrations with a gentle, fine spray of water to help remove the tartar, plaque, and calculus build-up associated with periodontal disease, which is caused by bacteria. When certain types of bacteria reach critical levels, they begin behaving in a very destructive manner. The Ultrasonic Scaler helps us remove the calculus (which acts like a safe haven for bacteria), kill bacteria, and reduce endotoxin levels. The Ultrasonic Scaler is combined with antimicrobial therapy to treat the bacteria that causes this disease. It's highly effective, faster, gentler, and more comfortable for our patients.
Nitrous Oxide
Indy Dental Group offers nitrous oxide for patients who need that calming effect. It's delivered through a mask and helps patients feel more relaxed and less nervous about dental procedures. Nitrous is safe and effective and has no long acting effects. Please let our office know if you would like to use it at your next appointment.
Sterilization
Indy Dental Group takes pride in providing a clean, safe environment. We use leading-edge sterilization equipment and strictly follow OSHA's regulatory standards. Continuing education on sterilization is mandatory for all staff.