Meet Dr. Megan Avery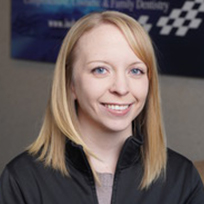 Dr. Megan Avery graduated with a Doctor of Medicine in Dentistry (DMD) degree in 2016 from Midwestern University College of Dental Medicine – Illinois and has been practicing general dentistry at Indy Dental Group.
What Dr. Avery enjoys most about dentistry is the relationships she develops with her patients. She values your dental health, and it is her mission to create a warm and trusting environment to encourage regular visits to maintain a healthy mouth. Patient education is a top priority, and she works to help you understand both treatment needs and preventative strategies. She enjoys working with adults and children alike and would love to be your family's dental care provider.
Dr. Avery is currently a member of the American Dental Association, the Academy of General Dentistry, the Indiana Dental Association, and the Chicago Dental Society. She has also completed the American Academy of Dental Sleep Medicine Mastery courses, giving her the designation as a qualified dentist to provide treatment for sleep-related breathing disorders with oral appliance therapy.

Dr. Avery is a member of the American Academy of Dental Sleep Medicine (AADSM), the leading national organization representing dentists who treat sleep-related breathing disorders, including obstructive sleep apnea (OSA) and snoring. As an AADSM member, she has access to education and resources that help her to provide optimal patient care. For more information about the AADSM, visit www.aadsm.org .
When not practicing dentistry, Dr. Avery enjoys spending time with her family, boyfriend, friends, and three dogs. She also loves Aerosmith and likes watching the Chicago Blackhawks and Chicago Cubs.