Meet Dr. Tyler Bennett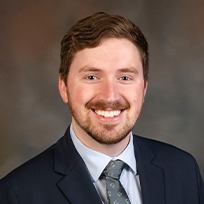 Dr. Tyler Bennett was raised in a small rural community of Montgomery, Indiana. As a graduate of Barr-Reeve High School, it is there Dr. Bennett learned the importance of community, working hard, and building trust. Lessons he hopes to carry into his everyday patient care.
Dr. Bennett attended Indiana University-Purdue University Indianapolis (IUPUI) where he earned a B.A. in biology, while minoring in chemistry and honors organizational leadership. He then graduated from Indiana University School of Dentistry with his Doctorate of Dental Surgery.
Outside the office, Dr. Bennett enjoys spending time with his loving wife or going to his younger brothers' basketball games or theater performances. He enjoys going to the movies, trying new food, and family time. He is also a big fan of the Hoosiers, Colts, Pacers, and the Cincinnati Reds. With his wife as a lifelong Chicago Cubs fan, they are currently debating which team's gear to raise their first child in.