Meet Dr. Elizabeth Lewis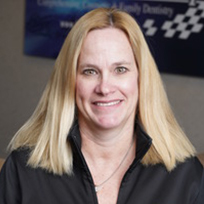 Dr. Elizabeth B. Lewis is co-founder of Indy Dental Group. She has over 30 years of experience in general dentistry and is respected for her expertise in the field of comprehensive cosmetic and family dentistry. She has pioneered a path of excellence in both patient education and delivery of dental care.
Dr. Lewis received her Doctor of Dental Surgery degree from the Indiana University School of Dentistry in 1992. Born and raised in northern Indiana, she completed her undergraduate coursework at Indiana University in Bloomington, where she majored in biology. Her background and expertise have allowed her to develop a highly successful post-graduate associateship program.
Through the years, Dr. Lewis has shared her expertise with new dentists, offering them the opportunity to learn the latest trends in dentistry and practice management. Her reputation as a leader in quality dentistry reaches not only dental students and new graduates, but also to colleagues who seek her out for her experience and counsel. She has helped to train and educate many Indiana associate dentists on their journeys toward success, many of whom have gone on to own and operate their own private practices.
Dr. Lewis is passionate about providing the best possible dental care and using the latest technology and best products and treatments the world of dentistry has to offer. Today, she enjoys practicing at all her offices and is committed to providing the best comprehensive dental care to the entire family.
In her free time, Dr. Lewis enjoys reading and taking part in the activities of her two children. She and her husband, Dr. Miller, remain active in the racing industry with their son, who starting his racing career at the young age of 3 in karting; he now has moved up to Indy Pro 2000 Championship with his hopes to climb the ladder to the NTT IndyCar Series.