Meet Dr. Jack M. Miller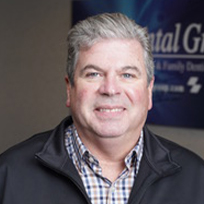 Dr. Jack M. Miller is the co-founder of Indy Dental Group and a veteran three-time Indianapolis 500 race car driver, earning him the title "The Racing Dentist." He is also a graduate of the Indiana University School of Dentistry, an Eagle Scout, and a commercial rated pilot. Dr. Miller was born and raised here in Indianapolis, Indiana, and is considered one of the most recognized dentists in the world today with over 30 years of experience.
Dr. Miller has used his platform as an Indianapolis 500 race car driver to establish a national dental health care educational program, changing the face of dentistry here in Indiana and across the nation. Through Dr. Miller's racing/dental education efforts, he brings renewed positive energy about the importance of good dental health to people throughout America. His program has educated more than a million youths on the importance of dental health care. What's more, Dr. Miller's efforts have been sponsored by major dental health companies. He has traveled widely with this national dental health care education program while racing in the Indy Racing League.
Appearing before schools with his Indy race car to share his experiences, Dr. Miller has educated students nationwide about the benefits of good dental health. A talented speaker, Dr. Miller has been invited to lecture at nearly every dental school across the country, including both Indiana and Harvard University. His "practice management" lecture was deemed by dental students as one of the "most important lectures" during their education, and his expertise in practice management and business have made him a sought-after speaker for dental schools, dental associations, and dental companies. Dr. Miller's unique blend of accomplishments in racing with his professional knowledge and skill in dentistry combine to provide a positive experience.
For many years, his presentations have resulted in better dental health habits for school children of all ages. They have also helped dental school students hone their skills for future patients and have inspired other dentists to provide the best possible care to patients and their communities. Many dentists across the country have actively participated in Dr. Miller's educational program and have provided dental care as part of it, coordinating their practices with Dr. Miller's appearances to result in a large and effective national outreach to youth. People enjoy his message of success in any effort and have been informed by him, in positive settings, about the importance of their own dental health.
The same theme continues in the Carmel office, where one of his Crest® Indy Cars is mounted on the ceiling of the reception room and his race history memorabilia decorate the walls. Dr. Miller also enjoys being an accomplished commercial rated pilot and taking part in the activities his two children are involved in. He and his wife Dr. Lewis remain active in the racing industry with their son, who started in karting at the young age of 3 and now has high hopes continuing in his father's footsteps by moving up to the Indy Pro 2000 Championship and hopefully eventually to climb the ladder at the NTT IndyCar Series. Dr. Miller is an active member of the American Dental Association, the Indiana Dental Association, and the Indianapolis District Dental Society.