Contact Indy Dental Group on North Meridian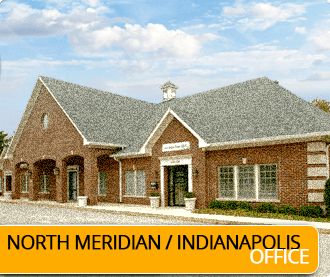 For your convenience, Indy Dental Group has five convenient locations. Two are in the city of Indianapolis. Our office at 9310 North Meridian, Suite 200 is just south of Interstate 465. We are between East 96th Street and East 91st, and between Spring Mill Road and North College Avenue. The dentists and their staff at this office are here to provide you and your family with a complete menu of dental services. Indy Dental Group wants to be the dentist you turn to when you need quality dentistry and outstanding customer service.
Hours
To make sure you're able to schedule an appointment at a time that works for you, we are open early and remain open later one evening.
Monday: 8:00 am - 5:00 pm
Tuesday: 8:00 am - 5:00 pm
Wednesday: 8:00 am - 5:00 pm
Thursday: 8:00 am - 6:00 pm
Friday: 8:00 am - 12:00 pm
If you have a dental emergency, then please call our North Meridian office at (317) 846-6125 and you will be instructed what to do.
Our Dental Services
The foundation of Indy Dental Group's services is same no matter which location you visit. We want you and your family to enjoy the benefits of a smile that is healthy and beautiful. To accomplish this we begin with preventive dentistry.
That dental checkup you have every six months is more than just a chance for you to have your teeth professionally cleaned. Your Indianapolis dentist and the team also carefully examine your teeth for signs of decay, your gums for signs of periodontal disease and your entire oral cavity for the early warning signs of oral cancer. We also offer dental sealants, fluoride treatments and mouthguards, too.
Of course, we work hard to help you maintain your healthy smile. But if you ever need treatment to restore, repair or rebuild a tooth, then you need look no further than your 46260 dentist. The restorative dentistry services Indy Dental Group offers at our North Meridian location include:
Dental Crowns and Bridges
Tooth-Colored Fillings
Full and Partial Dentures
Root Canal Therapy
Extractions
Full Mouth Reconstruction
And with our state-of-the-art technology, you can be certain that the restorative treatment you receive will be exceptional. With digital x-rays and intraoral cameras, we can get a clearer picture of exactly what your smile needs to be optimally healthy again.
When you want to enhance the look of your smile, we have the cosmetic dentistry treatment you need. Whether you're looking to brighten your smile with teeth whitening, re-create your smile with porcelain veneers or straighten your smile with Invisalign®, we can help you have the smile you've always wanted.
Call Your Indianapolis Dentist Today
If you would like to schedule an appointment at the North Meridian office of Indy Dental Group, then please contact us today at (317) 846-6125. Our office staff will be glad to help you find a time that is best for you.
9310 N Meridian St Ste 200
Indianapolis, IN 46260 Tel: (317) 846-6125
Office Hours
Monday: 8:00 am - 5:00 pm
Tuesday: 8:00 am - 5:00 pm
Wednesday: 8:00 am - 5:00 pm
Thursday: 8:00 am - 6:00 pm
Friday: 8:00 am - 12:00 pm