Cosmetic Dentist Serving Carmel, Westfield, & Indianapolis
Indy Dental Group offers a number of cosmetic solutions to improve your smile. Porcelain veneers are a popular method to give you the smile you have always wanted. They can change the shape, color, and orientation of your smile by replacing the outer one-millimeter of your front teeth. We also have great whitening products to improve your smile. Opalescence is the gold standard of teeth whitening. We offer a custom tray-based system, which patients wear for two weeks to achieve optimal results. We also offer a "pre-loaded" tray to make the whitening experience even easier, as well as an in-office whitening system for immediate results. All options are professional strength and considered safe for your teeth. Contact us today to schedule an appointment at any of our five locations in Indianapolis, Carmel, and Westfield.
Porcelain Veneers
When dental cracks, chips, discoloration, and other flaws have accumulated on your teeth over time, the thought of pursuing all the different treatments you'll need to overcome them can feel overwhelming. Thankfully, porcelain veneers can be used to correct several issues at once. These high-quality restorations are designed with thinness in mind so that they can fit over one or more of your teeth, hiding years of imperfections behind a new, bright appearance that feels and looks natural.
Veneers can last for ten to twenty years with proper oral hygiene at home and professional check-ups at Indy Dental Group. Patients can take care of them just like they would natural teeth – in fact, the dental porcelain we use is actually more resistant against gradual staining than enamel, which means your newly improved smile will shine bright for longer. In additional to typical cosmetic issues, veneers can also provide "instant orthodontics" to patients in need – they can be used to correct misaligned teeth and minor gaps without requiring years of wearing braces.
Tooth-Colored Fillings
If you're worried about needing a noticeably metal restoration placed over a hurting tooth, don't despair any longer. Indy Dental Group only offers resin/tooth-colored fillings. This option is extremely lifelike, possessing the same natural qualities as your natural teeth so that it can blend right in once placed. Tooth-colored fillings are also more conservative (meaning we can save more of your tooth's natural structure) and biocompatible, which is great news for patients with allergies to metals commonly used in dental work.
Direct Bonding
Patients looking for minor fixes to smile problems can find the conservative, cost-effective solution they need in direct bonding. This technique relies on the same lifelike composite resin material our doctors use when providing tooth-colored fillings; we'll sculpt it precisely into place over the affected tooth, covering chips, stains, minor gaps, misshapen tooth structure, and other imperfections beneath an addition that looks just like the real thing.
Crown Lengthening
Does your smile look uneven, too short, or overly "gummy?" In most cases, your teeth aren't the problem in this case – it's the gum tissue, which is covering up too much healthy tooth structure. During a crown lengthening procedure, our doctors will utilize our state-of-the-art Picasso soft tissue laser to carefully remove and reshape excess tissue, creating a more pleasing shape for your look overall. This treatment can be applied to one tooth, several teeth, or even your entire gum line – our goal is to create results that satisfy our patients.
Invisalign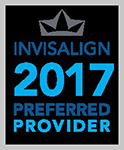 Traditional braces might be a good choice for children, but image-conscious teenagers and adults often struggle with the thought of wearing metal brackets and wires for months, even years on end. At Indy Dental Group, our team of doctors offers a more cosmetic alternative – Invisalign. Invisalign gets rid of the traditional elements of braces, replacing them with clear, customized oral aligners that blend in with your smile when worn. The patient's job is simply to wear them as directed, gradually moving their teeth towards their ideal position. The aligners are comfortable and conveniently removable.
Understanding the Cost of Cosmetic Dentistry
We get it – you might be hesitant to move forward with cosmetic dentistry in Eugene because you're worried it'll break the bank. At Indy Dental Group, we'll help you navigate the financial aspects of your treatment to ensure you stay within your budget. During your consultation, we'll explain what services are available and how much you can expect to pay for them so you can make the best decision for your smile. To learn more, simply click on the button below!
What Cosmetic Dental Service is Right for Me?
Different cosmetic dental treatments come at different costs. To figure out which option is the best choice, you'll first need to determine what kind of changes you want to make. Maybe you want to whiten your teeth, straighten them, or alter their appearance. Whatever goal you're trying to accomplish, there's a service that can help you achieve your desired results!
Here are some options to consider:
Dental Bonding – If you have minor imperfections you want to address, dental bonding may be exactly what you're looking for. Not only does it yield fast results, but it's a cost-effective solution. However, results don't last very long, which means you'll need to redo the treatment every few years.
Invisalign – Unlike traditional metal braces, this modern orthodontic uses a series of clear aligners to gradually move your teeth into proper alignment. Because it cannot help with tooth shape or color, you'll need to explore other solutions if those are changes you want to make.
Crown Lengthening – Does your smile look uneven or "gummy"? This procedure can remove and reshape excess gum tissue, creating a more pleasing shape. Keep in mind that it cannot address imperfections with your teeth.
Veneers – While this option is more costly than the ones mentioned above, it's the only one capable of transforming several different aspects of your smile at once. Best of all, you can make your results last over a decade with proper maintenance!
Cosmetic Dentistry Can Be an Investment Worth Making
Improving your smile with cosmetic dentistry is an investment that pays off in the long run. When you have an attractive smile, you'll notice positive changes to your confidence and self-esteem. In turn, these boosts can greatly improve your relationships and social life. It can even benefit your career by helping you make a strong first impression during important interviews and meetings!
How to Make Cosmetic Dentistry Affordable
Most dental insurance plans do not offer coverage for cosmetic dentistry. Since these procedures are mainly performed for aesthetic reasons, they're not typically eligible for these benefits. As such, you'll need to find alternative ways to pay for your care. Rest assured – our practice can help with that! We are partnered with CareCredit to offer patients affordable financing with 0% interest and flexible payment scheduling. If you need help with the application process, don't hesitate to contact us!
Cosmetic Dentistry FAQs
Ready to enhance your pearly whites? If you've been wanting to address one or several dental flaws in your smile, then you'll want to consider undergoing cosmetic dentistry to upgrade your grin. Since there's a variety of treatments to sift through, it's natural to want to know more about your options before deciding. That's why our team has collected and responded to some of our most commonly asked questions about cosmetic dentistry from our patients. Read on or give us a call today if you don't see the information you're looking for!
How Do I Know If I Need Cosmetic Dentistry?
Those who aren't proud or don't feel confident about their smile can greatly benefit from getting cosmetic dentistry. Discolored or stained teeth can be effectively brightened with professional teeth whitening, providing results you generally won't find with store-bought products. If you've chipped or mildly cracked your teeth, you can repair and protect them with either a crown or veneers for a comprehensive solution. The best way to know if cosmetic dentistry is right for you is by visiting our team for an initial consultation. We can walk you through the treatment options that are best for taking years off your pearly whites.
Does Cosmetic Dentistry Hurt?
Some people aren't certain about getting cosmetic dental services due to their assumption that the process will be uncomfortable. Thankfully, our team is highly-experienced and will do everything we can to ensure you're as relaxed as possible. Firstly, most of our treatment options are non-invasive, such as teeth whitening and direct bonding. If you decide to undergo a more extensive procedure, like veneers, then we'll completely numb your mouth with a local anesthetic before beginning the work. We can even offer nitrous oxide sedation to keep you calm and comfortable. You may feel some soreness after your treatment, but this should be short-lived and easily handled with over-the-counter painkillers.
Is Cosmetic Dentistry Expensive?
Since cosmetic dental treatments aren't usually covered by dental insurance, many patients consider them expensive. However, this doesn't automatically mean you'll have to pay for your procedure completely out-of-pocket. First, our team offers alternative financing through CareCredit, which can help cut the overall price of your treatment into low-to-zero-interest monthly installments to save you money. Also, you'll want to consider the impact your procedure will make on your smile, confidence, and overall quality of life.
Is Cosmetic Dentistry Safe?
If you're receiving your cosmetic dental treatment from a trained professional, then the majority of these procedures should be entirely safe for most people. Still, not every option is best for all patients, as certain services can pose a risk if there are existing oral health problems that haven't been addressed yet. For example, placing a veneer over a decaying tooth can simply make it more difficult to treat in the future. That's why we'll need to evaluate your oral health from the beginning so we can address any issues before moving forward with your chosen cosmetic treatment.