Cosmetic Dentist Serving Carmel, Westfield, & Indianapolis
Indy Dental Group offers a number of cosmetic solutions to improve your smile. Porcelain veneers are a popular method to give you the smile you have always wanted. They can change the shape, color, and orientation of your smile by replacing the outer one-millimeter of your front teeth. We also have great whitening products to improve your smile. Opalescence is the gold standard of teeth whitening. We offer a custom tray-based system, which patients wear for two weeks to achieve optimal results. We also offer a "pre-loaded" tray to make the whitening experience even easier, as well as an in-office whitening system for immediate results. All options are professional strength and considered safe for your teeth. Contact us today to schedule an appointment at any of our five locations in Indianapolis, Carmel, and Westfield.
Porcelain Veneers
When dental cracks, chips, discoloration, and other flaws have accumulated on your teeth over time, the thought of pursuing all the different treatments you'll need to overcome them can feel overwhelming. Thankfully, porcelain veneers can be used to correct several issues at once. These high-quality restorations are designed with thinness in mind so that they can fit over one or more of your teeth, hiding years of imperfections behind a new, bright appearance that feels and looks natural.
Veneers can last for ten to twenty years with proper oral hygiene at home and professional check-ups at Indy Dental Group. Patients can take care of them just like they would natural teeth – in fact, the dental porcelain we use is actually more resistant against gradual staining than enamel, which means your newly improved smile will shine bright for longer. In additional to typical cosmetic issues, veneers can also provide "instant orthodontics" to patients in need – they can be used to correct misaligned teeth and minor gaps without requiring years of wearing braces.
Tooth-Colored Fillings
If you're worried about needing a noticeably metal restoration placed over a hurting tooth, don't despair any longer. Indy Dental Group only offers resin/tooth-colored fillings. This option is extremely lifelike, possessing the same natural qualities as your natural teeth so that it can blend right in once placed. Tooth-colored fillings are also more conservative (meaning we can save more of your tooth's natural structure) and biocompatible, which is great news for patients with allergies to metals commonly used in dental work.
Direct Bonding
Patients looking for minor fixes to smile problems can find the conservative, cost-effective solution they need in direct bonding. This technique relies on the same lifelike composite resin material our doctors use when providing tooth-colored fillings; we'll sculpt it precisely into place over the affected tooth, covering chips, stains, minor gaps, misshapen tooth structure, and other imperfections beneath an addition that looks just like the real thing.
Crown Lengthening
Does your smile look uneven, too short, or overly "gummy?" In most cases, your teeth aren't the problem in this case – it's the gum tissue, which is covering up too much healthy tooth structure. During a crown lengthening procedure, our doctors will utilize our state-of-the-art Picasso soft tissue laser to carefully remove and reshape excess tissue, creating a more pleasing shape for your look overall. This treatment can be applied to one tooth, several teeth, or even your entire gum line – our goal is to create results that satisfy our patients.
Invisalign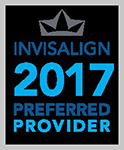 Traditional braces might be a good choice for children, but image-conscious teenagers and adults often struggle with the thought of wearing metal brackets and wires for months, even years on end. At Indy Dental Group, our team of doctors offers a more cosmetic alternative – Invisalign. Invisalign gets rid of the traditional elements of braces, replacing them with clear, customized oral aligners that blend in with your smile when worn. The patient's job is simply to wear them as directed, gradually moving their teeth towards their ideal position. The aligners are comfortable and conveniently removable.