Contact Indy Dental Group of North Westfield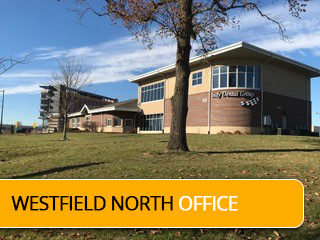 Westfield North is close to all the services you need in the greater metropolitan area -- but when you're looking for an excellent dentist who can meet the whole family's needs, you don't have to go far at all. There's an Indy Dental Group location in your neighborhood! Our doctors and hygienists are here to provide the ultimate in comprehensive dental care to help you and your loved ones smile healthily for life.
A Convenient Location
The Indy Dental Group of North Westfield North is located at 322 W Main Street, right off Highway 31. We're right beside Westfield Intermediate School. It's easy to reach our office no matter which way you're coming from, but if you get lost on your way, please don't hesitate to give us a call! We'll give you the directions you need to make it right to our doorstep.
Indy Dental Group Westfield North Hours
Our schedule makes it easy to get the dental care you need performed at a time that's convenient for you. Visit us during our office hours:
Monday: 8:00 am - 5:00 pm
Tuesday: 8:00 am - 5:00 pm
Wednesday: 8:00 am - 5:00 pm
Thursday: 8:00 am - 6:00 pm
Friday: 8:00 am - 12:00 pm
Our Dental Services
The Indy Dental Group is known for providing comprehensive dental services in a state-of-the-art environment -- and our North Westfield location isn't any different! We offer patients of all ages the full list of treatments that smiles of all ages need to stay clean, healthy, and strong.
Our services include:
Preventive dentistry: Checkups and cleanings, x-rays, fluoride treatments, dental sealants, nightguards for bruxism, and more
Restorative dentistry: Tooth-colored fillings, crowns, bridges, dentures and partials, extractions, root canal therapy
Cosmetic dentistry: Porcelain veneers, teeth whitening, direct bonding, crown lengthening, Invisalign
Dental implants, a comprehensive tooth replacement
Periodontal therapy for gum disease
Book a Visit Today!
Our Westfield North dental team looks forward to serving you and your loved ones with high quality, comprehensive dentistry for years to come. To learn more about our doctors' experience or to schedule an appointment for you or a loved one, please do not hesitate to contact us today!
322 W. Main St.
Westfield, IN 46074
Tel: (317) 399-5513
Office Hours
Monday: 8:00 am - 5:00 pm
Tuesday: 8:00 am - 5:00 pm
Wednesday: 8:00 am - 5:00 pm
Thursday: 8:00 am - 6:00 pm
Friday: 8:00 am - 12:00 pm