Contact Indy Dental Group of Westfield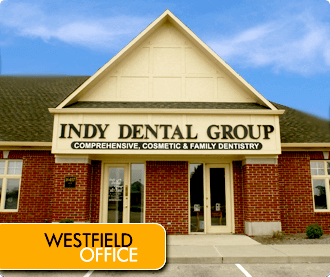 As a suburb of Indianapolis, Westfield isn't exactly a far drive from anywhere in the metropolitan area. However, in order to provide our patients will more convenience, Indy Dental Group has an office in Westfield. Dr. Jack Miller, Dr. Elizabeth Lewis and Dr. Philip Hoyt are the dentists at this location. They and their team of dental hygienists and dental assistants are ready to help you and your family with any dental service needed.
Location
Indy Dental Group of Westfield is located at 16407 Southpark Drive in Suite B. We're directly across from Oak Trace Elementary School and around the corner from the Arctic Zone Iceplex and Roundtripper Sports Academy. With Main Street to the north and Highway 31 to the east, the office is easily accessible from any direction.
Office Hours
Monday: 8:00 am - 5:00 pm
Tuesday: 8:00 am - 5:00 pm
Wednesday: 8:00 am - 5:00 pm
Thursday: 8:00 am - 5:00 pm
Friday: 8:00 am - 12:00 pm
Dental Services
At Indy Dental Group, the dentist in 46074, you will find a wide range of dental services to help you take care of all the smiles in your family. These services include:
Preventive Dentistry
Restorative Dentistry
Cosmetic Dentistry
Dental Implants
Periodontal Therapy
The dentists and their team in Westfield are ready to help you enjoy the benefits of strong teeth, healthy gums and an attractive smile. We value the relationships that we build with our patients and want you to feel right at home in our office. Don't hesitate to ask a question or voice any concern. We look forward to serving you at the Westfield office of the Indy Dental Group.
16407 Southpark Dr Suite B
Westfield, IN 46074
Tel: (317) 867-5400
Office Hours
Monday: 8:00 am - 5:00 pm
Tuesday: 8:00 am - 5:00 pm
Wednesday: 8:00 am - 5:00 pm
Thursday: 8:00 am - 5:00 pm
Friday: 8:00 am - 12:00 pm