Contact Indy Dental Group in Westfield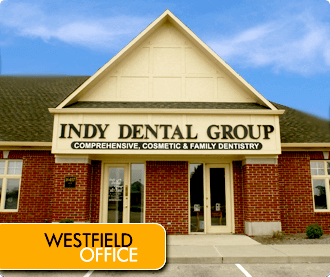 As a suburb of Indianapolis, Westfield isn't exactly a far drive from anywhere in the metropolitan area. However, in order to provide our patients will more convenience, Indy Dental Group has an office in Westfield. Drs. Miller, Lewis and Steffen are the dentists at this location. They and their team of dental hygienists and dental assistants are ready to help you and your family with any dental service needed.
Location
Indy Dental Group in Westfield is located at 16407 Southpark Drive in Suite B. We're directly across from Oak Trace Elementary School and around the corner from the Arctic Zone Iceplex and Roundtripper Sports Academy. With Main Street to the north and Highway 31 to the east, the office is easily accessible from any direction.
Office Hours
Monday: 8:00 am - 5:00 pm
Tuesday: 8:00 am - 5:00 pm
Wednesday: 8:00 am - 5:00 pm
Thursday: 8:00 am - 5:00 pm
Friday: 8:00 am - 12:00 pm
Meet the Dentists
Dr. Jack Millerco founded Indy Dental Group with his wife Dr. Lewis. Born and raised in Indianapolis, he graduated from the Indiana University School of Dentistry. Dr. Lewis has raced in the Indianapolis 500 three times. Now, he uses his racecar recognition to promote dental health care across the nation and lectures regularly on the importance of taking care of your teeth and gums.
Dr. Elizabeth Lewis completed her undergraduate studies at Indiana University in Bloomington and then went on to earn earned her Doctor of Dental Surgery degree from the Indiana University School of Dentistry. As a dentist, she particularly enjoys being able to provide her patients with complete dental care through the use of state-of-the-art technology.
Dr. Shellie Steffen grew up in Goshen, IN and studied biology and chemistry at the University of Indianapolis. She graduated from Indiana University School of Dentistry in 2012. As a dental student, Dr. Steffen was co-editor of "Our Time: Orchestrating Oral Health," an IUSD publication. She was also a volunteer at the IUSD Student Outreach Clinic and the Amish Dental Clinic in Shipshewana, Indiana. After graduating, she spent eight months doing dental volunteer work in Argentina.
Dental Services
At Indy Dental Group, the dentist in 46074, you will find a wide range of dental services to help you take care of all the smiles in your family. These services include:
Preventive Dentistry
Restorative Dentistry
Cosmetic Dentistry
Dental Implants
Periodontal Therapy
The dentists and their team in Westfield are ready to help you enjoy the benefits of strong teeth, healthy gums and an attractive smile. We value the relationships that we build with our patients and want you to feel right at home in our office. Don't hesitate to ask a question or voice any concern. We look forward to serving you at the Westfield office of the Indy Dental Group.
16407 Southpark Dr Suite B
Westfield, IN 46074
Tel: (317) 867-5400
Office Hours
Monday: 8:00 am - 5:00 pm
Tuesday: 8:00 am - 5:00 pm
Wednesday: 8:00 am - 5:00 pm
Thursday: 8:00 am - 5:00 pm
Friday: 8:00 am - 12:00 pm